Call for Artists
San Francisco Beautiful presents: Muni Art
Application Deadline: June 19, 2015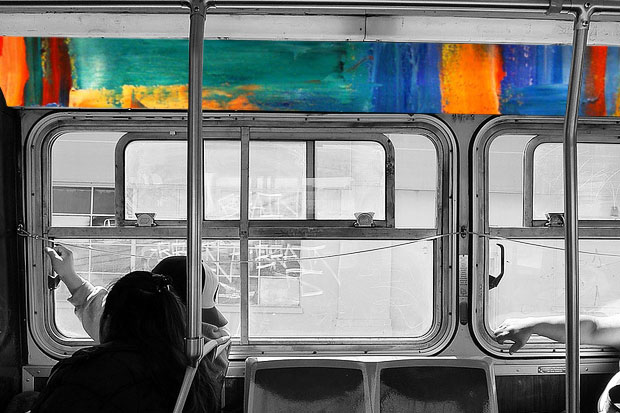 The goal of Muni Art is to create a sense of identity and enhance the experience for daily commuters who live and do business in San Francisco. San Francisco Beautiful will also invite neighbors to participate in the selection of artists, exhibiting up to 800 pieces of art on buses in every neighborhood. Muni Art will launch in fall 2015.
San Francisco has the third highest percentage of public transit commuters of any city in the United States. Public transit takes our residents to hospitals, schools, jobs and affords them access to the city's plethora of cultural and arts events. Our Muni Art sponsors will have access to those 700,000 daily Muni riders.
—-
Eligibility is open to professional, practicing artists with an emphasis on two‐dimensional media
and residing in the Bay Area.
—-
San Francisco Beautiful will commission new artwork by Bay Area artists to be included on Muni routes throughout the city. A group of artists will be chosen by public vote to have their original pieces installed on the interior of Muni buses this fall.
Artwork should be adaptable for Muni's internal banner size of 11" by 28". Artwork can be one continues piece, or separate panels. Each Muni bus have approximately 29 panels. Artwork must abide by the SFMTA's ad policy, viewable here.
The theme for Muni Art's launch is "The Spirit of San Francisco"
Project Timeline (subject to change)

• Application Deadline: 6/19/2015
• Selection Committee Review: 06/22/2015 – 06/26/2015
• Public Vote For Final Artists: 07/1/2015 – 08/14/2015
• Art on Buses: 09/01/2015 – 12/31/2015
Selection Process
San Francisco Beautiful has appointed a committee that will screen applications based on:
• Project proposal (draft)
• Past artwork submitted by artist
• Resume detailing artist's professional experience
Selected artists will develop a final proposal for the project based on project costs, including, but not
limited to, artist's fee, design, and all preparation work necessary to complete each banner design to the
printer's specifications.
Application Process
Application materials include:
• One page proposal including a brief statement about your project proposal and how you would develop it. Please do not create and submit images of a specific proposal or proposed banner designs. Visuals of the proposal will not be considered at this stage in the selection process.
• Resume should not exceed one page.
• 4 images of previous work. (Please include title, medium, dimensions, date, and a brief description for each image.)
Application materials must be submitted via email to: peter@sfbeautiful.org